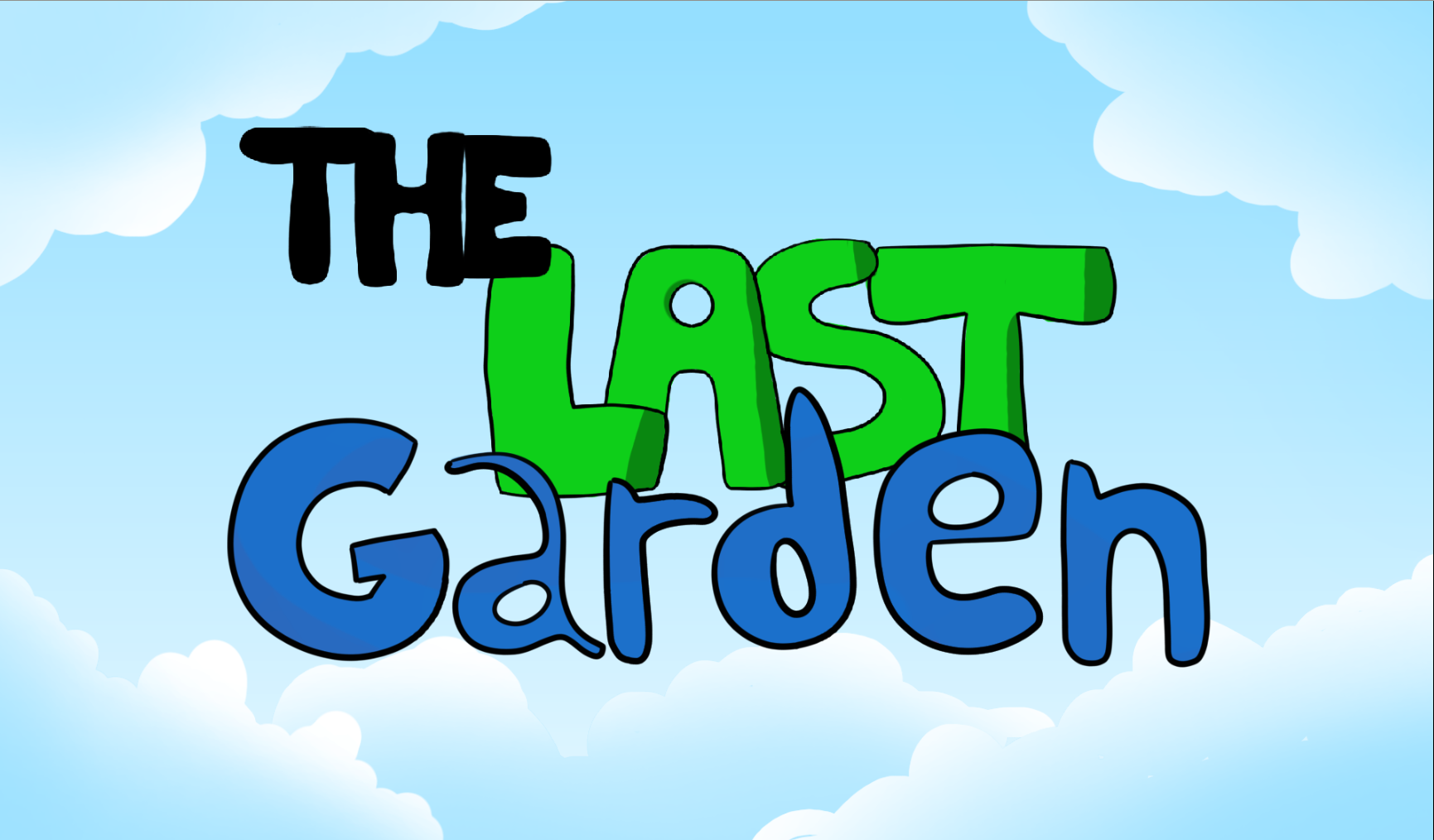 The Last Garden
ENGLISH:
(français plus bas)

The robotic swarm storms everything on its path. Its goal is to change the whole world in his image and to annihilate all organic life.
No trace of life remains, except for one last bastion. You are the guardian of the last garden, which houses the Mother Plant. She is able to grow plants and restore life on earth. But she is still a seed, the world can't be saved until she completes her metamorphosis.
Insects attack the garden and are heading to the mother plant. If she dies, you lose: you must survive while she hatches. Plant flowers on grass blocks, but beware: the robots turn the grass into metal to prevent you from planting.
Plant flowers using energy orbs that you receive each turn. You also get 3 random flowers from the following types:

The dandelion throws a petal on an insect to kill it.
The rafflesia uses its spores to attract insects and divert them from the mother plant.
Thorns kill an insect that passes over it.
The blue lily is able to convert metal blocks back to grass.
However, a plant is being metamorphosed throughout all its short life. It starts first as a bud and can only be useful when it reaches maturity. It ends up withering and dying. You must replant constantly to ensure victory.
Team:
PatteDeCanaard : drawing, animation, shaders, programming;
Hernz : architecture, gameplay, HUD, menus;
Helgrind : HUD, menus, sound design, texts and traduction, programming.
Assets:
We made all the graphic assets present in the game. The sounds and music were found on Open Game Arts and are all royalty free. Here is their list:
Made with Godot 3.1.
The project is open sources. Sources can be found here

FRANCAIS:

L'essaim robotique ravage tout sur son passage : son but, que le monde soit à son image et que toute forme de vie organique soit annihilée.

Il ne reste plus aucune trace de vie, à l'exception d'un dernier bastion. Vous êtes le gardien du dernier jardin, qui abrite la plante-mère. Elle est capable de refaire pousser des plantes et de sauver la vie. Mais cette plante n'est est encore qu'à l'état d'œuf, le monde ne pourra être sauvé que si elle accomplit sa métamorphose.
Les insectes attaquent le jardin et se dirigent vers la plante-mère. Si elle meurt, vous avez perdu : vous devez donc survivre en attendant son éclosion. Vous pouvez planter des fleurs qui vous aideront à tenir sur des blocs d'herbe, mais attention : les robots transforment l'herbe en métal pour vous rendre la tâche difficile.
Chaque tour, vous recevez des orbes d'énergie qui vous permettront de planter des fleurs. Vous recevez aussi 3 fleurs parmi les types suivants :
Le pissenlit lance ses pétales sur les insectes pour les tuer.
Le rafflesia utilise ses spores pour attirer les insectes et les détourner du chemin de la plante-mère.
Les ronces tuent tout insecte qui passerait sur elles.
La fleur bleue est capable de reconvertir des blocs en bloc d'herbe pour pouvoir replanter.
Mais une plante se métamorphose tout au long de sa courte vie , elle commence d'abord en tant que bourgeon et ne peut être utile que quand elle atteint sa maturité. Elle finit par faner et mourir. Il faut donc replanter en permanence pour assurer sa victoire.
Equipe:
PatteDeCanaard : graphismes, animations, shaders, programmation;
Hernz : architecture, gameplay, HUD, menus;
Helgrind : HUD, menus, sound design, textes et traductions, programmation.
Technologie et assets:
Tous les assets graphiques ont été réalisés par nos soins. Les sons et les musiques ont été trouvés sur Open Game Arts et sont tous libres de droits. Voici leur liste :
Un jeu réalisé avec Godot 3.1.
Le code source du jeu est disponible ici
Licensed under GPL-3.0-or-later
Copyright (C) 2019 Louka Soret

| | |
| --- | --- |
| Status | Released |
| Platforms | Windows, macOS, Linux, HTML5 |
| Authors | PatteDeCanaard, Hernz, Helgrind |
| Genre | Strategy |
| Made with | Godot |
| Tags | Cute, Isometric, Open Source, Turn-based Strategy |
| Average session | A few minutes |
| Languages | English, Esperanto, French |
Download